Last autumn I had a diner who was interested in attending one of the supper clubs but sadly by the time she enquired about availability the dinner was fully booked. Not wanting to disappoint friends and guests I then decided that the first person to be on the waitlist was guaranteed two places at the next supper club. In talking with this person, now my new friend Natalia, I learned that she was from Argentina and I suggested that we should do an Argentinian themed night. After a few months of finding a mutually available date we organized the latest installment of the Hanoi Social Supper Club featuring the cuisine of Argentina.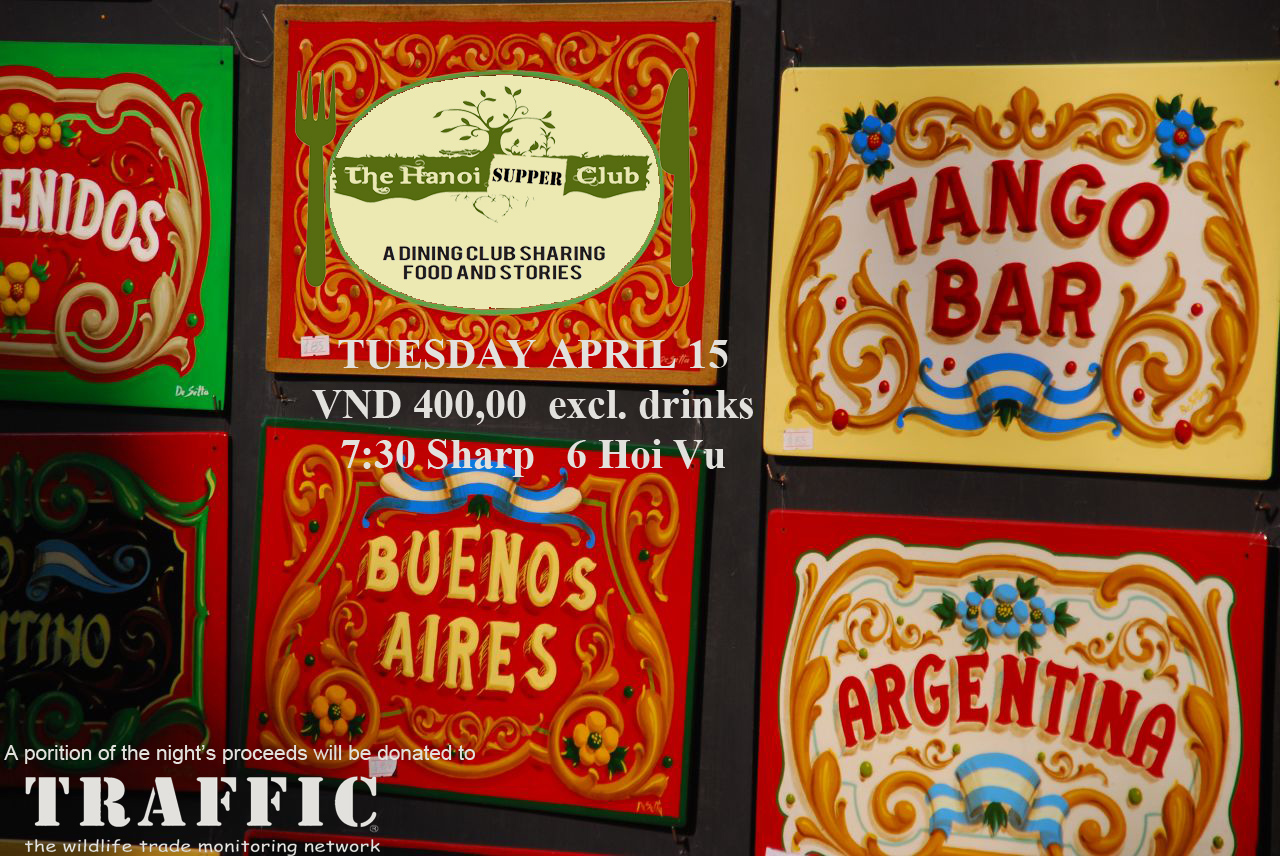 Natalia and I met to discuss the menu with me already having some ideas in mind based on some research online and my regular visits to the wet market to see what is in season. Having never been to Argentina I felt it was important to have Natalia's culinary and cultural input. We decided upon a menu theme of an informal family Sunday lunch or visit to a bodegon or neighbourhood bistro. A few years back reading the 2009 Saveur 100 issue the image of the dish matambre, or 'hunger killer', a browned, then braised flank steak rolled around cooked carrots, spinach and hard boiled eggs caught my eye and has remained on my never ending list of dishes I would like to make. Last year I was reminded of this dish, while enjoying another Saveur article by fellow Canadian David Sax, about his lunch experiences in Buenos Aires. Natalia was happy with my initial ideas and shared some necessary suggestions to ensure the right Argentinian flavours. Our menu for the evening was:
Chicken, Potato, Olive Empanadas
Roasted Mushrooms stuffed with Chorizo and Smoked Cheese
Chimichurri Sauce
Matambre
Russian Salad
Roast Beetroot, Arugula, Goat Cheese Salad with Balsamic Vinaigrette
Caramel Flan with Dulce De Leche
Fresh Tropical Fruits
As the appetizers were handed out Natalia shared with the supper club how Argentinian food was heavily influenced from Italian and Spanish immigrants yet adapted with the products available in Argentina. As we were ensconced on the second floor of a café in the middle of Hanoi we needed something to transport us to gorgeous landscapes of Argentina. So we projected the film Caballos Salvajes on the wall during the meal.
The folks at The Perennial Plate, Mirra and Daniel, produce fantastic short videos about the culture of food based on their interactions with chefs, farmers, such as these Argentinian cattle ranchers, and producers around the world. Just as I was searching for stories or videos to share with my guests they released a couple of videos about food in Argentina. Keep watch on their site as I believe they are editing a few more.
Natalia and her latina friends were extremely happy with how the meal looked and tasted joking that I must have had an Argentinian grandmother providing me guidance in the kitchen.
A Few Notes On Making Matambre
If you're interested in trying the matambre recipe the Saveur recipe link above is worth using as a template, as I did. Below are some additional tips based on my experience.
Since it is hard to get a nice cut of flank steak here in Vietnam I ended up purchasing a whole rump/ top butt and then butchering it in to smaller sized roasts. I then gradually cut it on an angle, rolling it out to be relatively flat. Pounding the meat, no matter, what cut is a must to get it thinner.
Braise the Vegetables to Enhance Their Flavour
Instead of simply boiling the vegetables, I decided to braise them slowly in some butter and water. First the whole carrots until tender enough to cut with a spoon. I followed this with some leeks, as the ones at the markets here are about the thickness of a thumb – so a perfect addition to the dish. If you want to do this with larger leeks, first braise the entire leek first, you probably will have to cut the length of the leek down. Once cooked tender cut the leek in half lengthwise to make it more manageable for the dish. I also decided to braise some peeled garlic cloves (say one or two whole bulbs worth for the Saveur recipe).  All of the recipes I consulted indicated to add the spinach raw. Instead, I briefly boiled the spinach, refreshed it and then squeezed out all of the water and roughly chopped it. I thinly sliced an onion and then sautéed it for about 5 minutes before mixing it with the spinach.
Tie It Tight
As the recipe says, it is important to tie the kitchen twine at 1-inch intervals to keep the roll together during the searing and cooking.
Great Picnic Fare
Lastly, instead of serving this hot or warm, I let it cool down and served it at room temperature, primarily since the days and nights are getting hot and humid in Hanoi and I thought it would be a nice change to start eating this way.
If you try making the matambre let me know how it turned out or feel free to ask any questions before attempting the recipe.