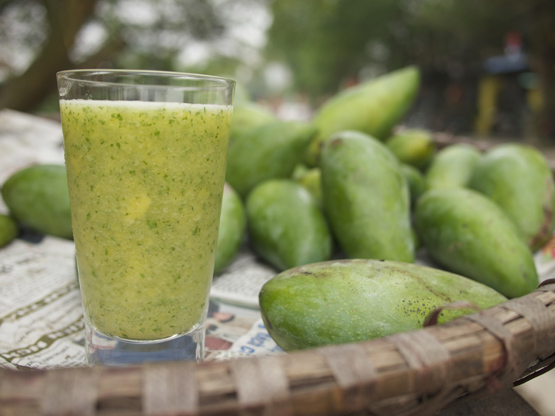 During the summer months when the mango, ripe or otherwise, is king Indians transform the fruit numerous ways. One of the most refreshing results is a cooling aam panna, literally mango water, a lightly spiced celadon green concoction. Some homemade recipes add spices such as roasted cumin or black salt. I have decided to omit the spices as I didn't expect my kids to like them and simply added some fresh mint. For a late afternoon adult version a shot of dark rum brings a welcomed zing.
The hard unripe mangoes need to be cooked, either boiled or roasted. Roasting is preferred as the flavour is more intense and they become a bit sweeter, evidenced by the slight caramel residue left on the baking sheet by the natural juices.
You may feel that cooking 1kg of green mango may be too much but it is worthwhile as it will save time when you want to make a quick drink. Once the fruit is cooked, puree the flesh on its own and put half of it in a container in the freezer for future use. Then simply follow the half recipe at the end.

Green Mango Mint Cooler: aka 'Aam Panna'
Ingredients
1 kg green mangoes (about 3 mangoes)
½ cup mint leaves (1 or 2 bunches depending on size)
6 tablespoons sugar
1 litre cold water
1 cup ice
Instructions
Preheat the oven to 350F/ 180C.
Place the green mangoes on a baking sheet and into the oven.
Roast the mangoes for 15 minutes and then turn them over and cook for another 15 to 20 minutes or until a dull green colour and fully soft when touched. Remove from the oven and cool to the touch.
Alternatively, place the green mangoes in a pot and cover with water. Bring to a boil and simmer for 15-20 minutes or until the mangoes are fully soft when touched. Using a large spoon or tongs remove from water to a plate and let cool.
Cut the mangoes in half and use a spoon to scoop out all of the flesh off the skin and the pit.
Place the flesh in a blender along with the rest of the other ingredients. Blend for 1 to 2 minutes depending on how well your machine blends.
Use a spoon to check to see if the mix is fibrous or not. If it is still somewhat fibrous pass it through a fine mesh strainer that has been placed over a larger bowl.
Pour into a pitcher and chill in the fridge. Keeps for several days refrigerated.
Notes
Half Recipe
1 ¼ cup cooked, pureed green mango pulp
¼ cup mint leaves
3 tablespoons water
2 cups cold water
½ cup ice