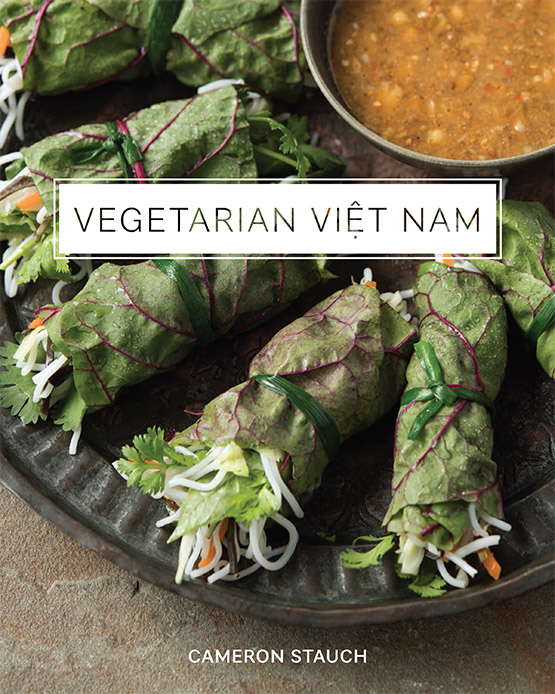 Over the last few months the question I'm asked the most is "Where can I buy your book?" I'm happy to share that you can now pre-order Vegetarian Việt Nam (published by WW Norton). In North America it's available on Amazon, Chapters/ Indigo, Barnes and Noble, Books-a-Million, Powell's, Indiebound ; in the UK Amazon UK (release date is April 13, 2018) here and here; and in Asia on Asia Books. Or better yet, walk into your nearest independent bookseller and order it through them. I'm working on getting it stocked in Hanoi at Bookworm and hopefully in some other shops throughout Vietnam. I'll be thrilled if you pre-order my book and if you do I'd love it if you'd send me, via email or social media, a screenshot of your purchase. The official release date is March 13, 2018 so we'll all have to wait until then to actually hold it in our hands.
———————————————————————————————————
Early Praise for Vegetarian Việt Nam
I've received some extremely kind and supportive comments about my first cookbook from fellow authors whom I respect and I look up to. And Publisher's Weekly has highlighted Vegetarian Việt Nam as one of the best ten cookbooks to be released in spring 2018.
"When I finally read Vegetarian Vietnam I thought, this is the book I want and need! Not only do the recipes look absolutely delicious and doable, the writing is lovely, the information that the author gives us on Vietnamese culture, especially the role that Buddhism plays, provides the context that makes at the recipes especially vibrant. The make ahead seasonings are essential and easy to make, the ingredients are for the most part accessible (I am shy of banana flowers in Northern New Mexico). I could go on and on with praise for this book. But what caught my eye most vividly was not a recipe, but words that had to do with slowing down in order to give a recipe the time it needs to be fully realized. Such good advice in the kitchen —and in life in general."
Deborah Madison, author of In My Kitchen and Vegetable Literacy
"With curiosity and zeal, Cameron Stauch has produced a fascinating and visually compelling work to spotlight Vietnam's rich vegetarian cooking traditions."
Andrea Nguyen, author of Into the Vietnamese Kitchen and The Pho Cookbook
"There's so much to love in this ground-breaking generous book, from enticing recipes to beautiful photographs and engaging stories. Home cooks and chefs will find many delicious ways of expanding their vegetarian repertoire. There's no sense of "absence" in the recipes. Instead there's a joy in flavor and texture, and a marvelous freshness of approach. Cameron's easy style makes you feel that you have a friend at your side to guide you as you shop and cook."
Naomi Duguid author of Taste of Persia: A Cook's travels in Armenia, Azerbaijan, Georgia, Iran & Kurdistan
"A meticulously researched, deliciously appetising and enlightening guide to a little-known cuisine. Cameron Stauch's recipes are clear and approachable, and his deep respect for Vietnam and its people shines through the book.
Fuchsia Dunlop, author of Land of Fish and Rice; and Every Grain of Rice
"Vegetarian Việt Nam is an absolute treasure trove, especially if you love Vietnamese food but have felt limited by your knowledge of its vegetarian traditions and adaptations. Chef Cameron Stauch explores those culinary traditions and modern-day practices, and between his expertise as a chef, his adventurous global appetite, and the first-hand lessons he's learned from cooks throughout the country, the recipes here are incredibly enticing—they're practical for the home cook and, of course, produce delicious results! I couldn't wait to bring this book into my kitchen."
Lukas Volger, author of Bowl: Vegetarian Recipes for Ramen, Pho, Bibimbap, Dumplings, and Other One-Dish Meals
"This beautiful book of delicious Vietnamese vegetarian cuisine shows how we can all contribute to protecting and healing ourselves and our precious planet by eating vegan. Everyone can make a difference to the world, starting today. If we eat 50% less meat, introduce one vegan day per week or become completely vegan, this is an act of love. When we look deeply into the destruction and suffering brought about by the consumption of meat and animal products in the world today, compassion naturally arises in our hearts. Being vegan is a simple, non-violent and effective way to bring about change for our world."
Sister Chân Không, the first fully ordained monastic disciple of Zen Master Thích Nhất Hạnh
"In this passionate and thorough exploration of vegetarian Vietnamese cuisine, Stauch, who was once on the cooking staff of the governor general of Canada, offers page after page of enticing fare….This outstanding collection showcases the diversity of Vietnamese cuisine".  Starred review in Publishers Weekly
Book Tour and Events 
For those of you who want to hear me speak in person about the book or have a signed book I'll be holding events throughout late March and early April in select cities in Canada and the US (Vancouver; Victoria; Seattle; Portland; San Francisco; Los Angeles; Boston; New York; Philadelphia; Washington) and then later this summer, primarily in Ontario, Quebec (Kitchener-Waterloo; Toronto, Ottawa, Montreal) and the east coast of the US. If you've pre-ordered the book just bring it along to the event nearest to you and I'll happily sign it. Or, I can sign a bookplate sticker with a personalized inscription, mail it to you and you can add it to the title page. (Email me with the inscription you'd like and your mailing address). Otherwise, just show up to an event and there will be books for you to purchase and for me to sign.