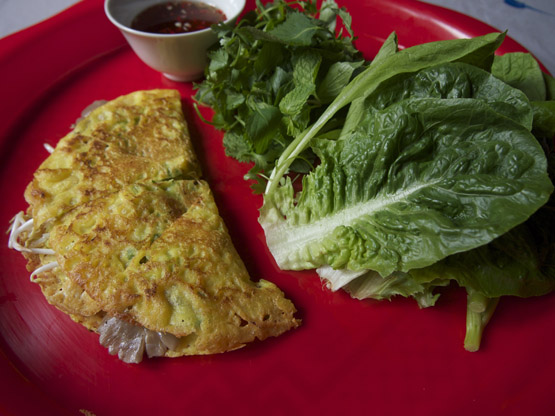 One of my favourite meals is an Indian dosa. So I was ecstatic when I first tasted its equally delicious Vietnamese relative bánh xèo, pronounced "bang say-o".
Bánh xèo is a savory Vietnamese crepe-style dish where portions of it are bundled around lettuce and herbs and dipped into a flavorful light dipping sauce.  Although the cooking technique for bánh xèo is much like a French crepe, it is in fact a cousin to the Indian dosa (my article in Zester Daily about Indian food influences in Vietnam), evidenced by a batter made from lentils and rice. To achieve a crispy exterior, you must pour the batter into a tablespoon of hot oil in a non-stick frying pan, seasoned cast iron pan or wok. You will know that you have added the batter at the right time when you hear the wonderful sizzling sound as it hits the oil and pan.
Place the filling ingredients over one half of the crepe to make it easier to fold over.
The batter can be made up to two days in advance and refrigerated but will need to be well stirred before using as the ground mung beans and rice flour settles when having sat for some time.
As you become more comfortable cooking the crepes, try using two pans at one time to increase your efficiency. They can be served straight from the pan or you can keep the cooked ones warm in a preheated oven while you prepare the rest of the crepes.

Crispy Rice and Mung Bean Crepes (Bánh Xèo)
Serves:
Makes 10: Serves 4-6 as main dish
Ingredients
½ cup mung beans
1½ cups water
1 cup rice flour
¼ teaspoon turmeric powder
½ teaspoon salt
¼ cup coconut milk
¾ pound firm tofu, cut 1 by 1 ½ inch rectangles and a ½ inch thick
1 cup thinly sliced straw or button mushrooms
2½ cups bean sprouts
10 tablespoons vegetable oil
½ cup thinly sliced spring onions
2 heads of Bibb or Boston lettuce washed, dried, leaves separated and torn into palm sized pieces
2 cups mixed herbs (coriander, Thai basil, mint, Vietnamese balm, radish or mustard sprouts)
Instructions
The Batter

Place the mung beans in a bowl, cover with 1 inch of lukewarm water and soak for at least one hour, preferably two hours to overnight.

Drain the mung beans and place them in a blender with 1½ cups of water. Blend for one minute. Add the rice flour, turmeric, salt, coconut milk and blend for another minute. Pour the batter through a fine mesh strainer into a bowl to remove any lumps. Put the batter in the fridge for at least 30 minutes or overnight.

To make the filling, heat a tablespoon of oil in an 8 or 9 inch non-sticky frying pan or seasoned cast iron pan over medium heat. Add the tofu slices and cook for 2 or 3 minutes until lightly golden. Turn over and cook for another 2 minutes. Remove to a waiting plate.

Heat a teaspoon of oil in the pan and lightly sauté the mushrooms for a minute or two. Remove and set aside on the same plate as the tofu.

To cook the crepes, heat 1 tablespoon of oil in the pan over medium high heat. Pour a ¼ cup of batter into the hot pan, swirling and tilting the pan to evenly distribute it over the bottom. Fry for 1 ½ to 2 minutes until it becomes crisp and golden brown. Sprinkle 1 tablespoon of spring onions, 3 pieces of tofu, 4 slices of straw mushrooms and a small handful of bean sprouts over half of the crepe. Cover, turn the heat to medium-low and continue to cook for another 2 minutes.

Uncover the crepe and use the spatula to fold it in half. Gently press on it with the spatula and let it cook and crisp up for another 30 seconds. Remove with the spatula and place onto a waiting plate. Serve immediately or keep warm in a pre-warmed oven.

Repeat with the remaining batter and ingredients until everyone is full or the ingredients are all used up (the latter being the case in our house).

To serve, use scissors to cut each crepe into four or five segments. Place a piece of lettuce in one hand and add a piece of crepe on top. Top with a generous pinch of herbs, roll the lettuce leaf up and dip into the sauce.